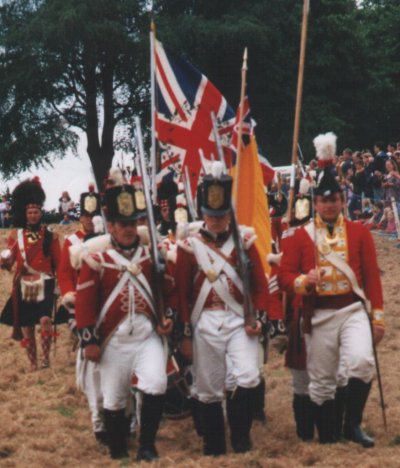 Captain Julian Ranger of the 88th leads on
members of the 23rd Regt (Welch Fusiliers), 42nd Regt (Black Watch)
and the 88th Regt (Connaught Rangers)
during the Farnham Battle display, June 2000
The Club
1st Battalion
General secretary: Laurence Thermes, Ballintrillick, Co. Sligo, Ireland. Tel 00353 7176624. e-mail: sligowildgeese@hotmail.com.
2nd Battalion
General secretary: Rob Anderson, 12 Hale Road, Farnham, Surrey, GU9 9QH, UK. Tel +44 (0)1252 726 258. e-mail: robanderson@ukonline.co.uk.
Aims and rules of the club:
The club aims to cater for all interests. Some people are interested in just the social side, others in participating but as non-combatants. Many, women included, are interested in going the whole hog and getting a uniform and musket and taking part in the actual battles.
There are opportunities for cheap or free travel, paid film and television work, and the chance to visit historic cities of Europe as guests, not just tourists.
Of the 16 or so regiments in the British division, very few allow women in the ranks in uniform with muskets.The Connaught Rangers encourage women to participate as soldiers, or wives or camp followers.
The club is a member unit of the Napoleonic Association - see our web site links page for more information.
People who do not want to take part in battles as soldiers can attend UK and international events, and qualify for free sponsorship on condition they are authentically costumed. Members may choose to procure/make their own costumes. All men must be uniformed on trips, whether or not they want to be a combatant.
To attract free sponsorship, such as flights to venues, food and accommodation, we have to provide value for money and look the part. The number of non-combatants should not exceed the number of troops/muskets. Individuals are expected to pay for their own uniforms /clothing, and initially the club will lend new members a musket for short-term specific events. Eventually we would expect participants to purchase their own muskets, which cost about £200.
The look we are trying to recreate is that of the 88th on campaign, so clothing is not expected to be spick and span, but muskets and equipment must be.
The club manpower target is a 2nd Battalion based in England of 24 trained redcoats to allow a 50% turn-out for planning major events, and a 1st Battalion in Ireland from the regiment's historic recruitment area in Connaught itself. The two halves of the club combine for major events in the UK and on the Continent.
The regiment has a time-honoured bet with the 1st Royal Dragoons that the 88th will field 30 redcoats at the next major re-enactment at Waterloo in Belgium. The forfeit for the loser of which extremely sporting bet is scarcely to be believed.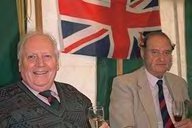 RHS our Club President - Hugh Winter and LHS Our Vice President Jeffrey Jeremiah who are major representatives and fundraisers of the Hampshire branch of the Army Benevolent Fund

Training:
Training is on the first Sunday of the month, and consists of basic infantry drill, event safety and musket proficiency. Re-enactment is very safe provided everyone follows the rules and unfortunately there is no short cut to learning them.
Before you can take part in a re-enactment event you will have to demonstrate that you understand and are safe with musket drill. It is all common sense but the trick is to make it second nature.
Licensing:
In order to fire a musket, it is necessary to hold a UK shotgun licence and a black powder licence. The club will advise on all certification required.

TOP OF PAGE