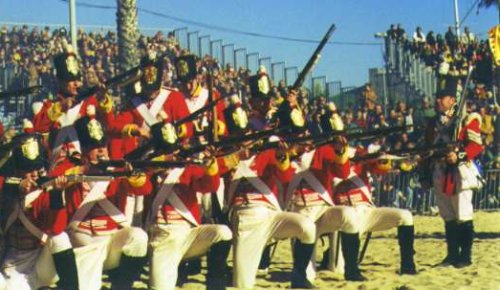 Web site links


Irish Lebanon Veterans - Web site dedicated to the Irish soldiers who served in Lebanon in the Service of Peace from 1978 to 2001. They are a group of retired Irish Soldiers and active service men founded in 2003 by John Sweeney, Kevin McCormack and Jim Deveraux. President is Lord Inchequin

Researching Your Military Ancestors - Web site of Richard Moles who runs a genealogical service specialising in researching Officers and Soldiers who served in the Irish Regiments of the British Army in the Great War 1914-1918 and in earlier periods

International Napoleonic Fair - Event details

Norfolk Militia (Heritage Regiment) Re-Enactment Group - The Norfolk Militia Re-Enactors, based in Norfolk County, Ontario, Canada, take part in most re-enactments in Canada and the United States and are pleased to represent the living history of North America in the nineteenth century.

1st Battalion 42 Highland Regiment of Foot 1815 - Our friends in the "sweaty socks" who we fight with and drink with and especially their pickled pipers Stumpy, Hooky, Arthur and Lee who we sing with!

Battle of Salamanca - A site dedicated to the Battle of Salamanca, 22 July, 1812, one of the 88th's greatest battle honours. There is a very good photo gallery of recent re-enactment events in Spain including Albuera, May 2003, which the Connaught Rangers attended and presented a uniform to our friends at the Salamanca Battle museum.

Farnham Re-enactment picture albums

Warwear - Quality Clothing for Historical Re-enactment... costumes to die for!

Waterloo Battlefield Tours - Guided Tours to the battlefield of Waterloo. Specialist company providing and developing a Battle of Waterloo experience.

Military Heritage Tours - Guided Tours to Ireland's Battlefields and Military Heritage

UK Re-enactors' Portal - Re-enactment societies from Pre-Roman to 20th Century

Corridors of Time - Historic shop for antique weapons, armour, collectables, militaria, etc.

Association of 18 Transmission Regiment Musicians

5th Battalion 60th Royal American (Rifles) - the 5th Battalion is a re-enactment unit portraying the life of Riflemen of a Rifle Company during the War in the Spanish Peninsular in the era 1808-1814.

The Napoleonic Association

Dawn Wood, an historical clothing designer and specialist

The inspirational "Richard Sharpe" not to mention our Irish hero Sgt Harper

88th/94th Connaught Rangers - site created to perpetuate the the memory of the Connaught Rangers. Includes a painting from Bury Art Gallery, chronology of events, tales and anecdotes, poetry, songs and music.

History of the Connaught Rangers - from the raising of The 88th (Royal Highland Volunteers) in 1760 to the disbandment of the Connaught Rangers in 1922.

Napoleonic War Re-Enactment Units - there's a lot of them out there!

The Napoleon Series - site dedicated to Napoleon Bonaparte and his times, where people interested in Napoleonic history can exchange ideas and knowledge about their favourite subject.

Willie Shaughnessy and the Connaught Rangers - Tribute to the Connaught Rangers' role in the Sixth Battalion during the Great War.

King House, Boyle, Roscommon - house of unique architectural and historical importance, home to the Connaught Rangers regiment from 1788.

Militaria on the Net - Collector's Guide, Empires & Colonial Wars 1740 - 1910.

Visit the Corunna web site - everything you need to know about Corunna in Galicia, north west Spain, where we took part in the battle re-enactment in July/August 1999.
---
Please e-mail the Devil's Own webmaster giving the URL of any link you would like added to this page.