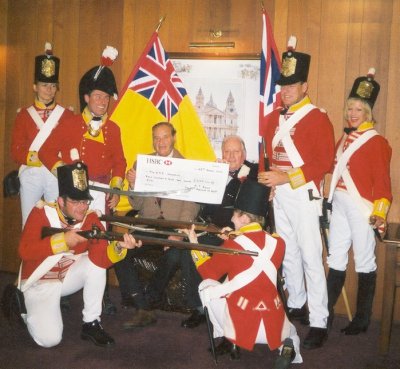 Club members present a cheque for £1,000 to
Hugh Winter and Jeffrey Jeremiah of the Army Benevolent Fund
Uniform and equipment
Cost of Uniform and Equipment:
Club members may buy the following kit and equipment at cost as shown below. These items may also be purchased by non-club members periodically depending upon availability, on application to the club secretary.
Uniform and Equipment
Cost
Red tunic
£ 95
White trousers
£ 30
Shako (including plate and plume)
£ 40
Bayonet sling
£ 20
Cartridge box and cross belt
£ 40
Gaiters
£ 20
Miscellaneous - buttons, stock, tools
£ 5
Total.....
£250
If you want to purchase any of the above, complete the Uniform Order and return to the General Secretary with a cheque for 50% deposit made out to "88th Regiment of Foot".